OEG's heritage dates back more than 45 years; its predecessor companies Containental and Vertec Engineering were among the pioneers in the supply of equipment to the North Sea oil and gas industry.

Both companies have a long history and made a mark with their technical know-how and skills in supporting projects both locally and internationally.
From 2010, after the re-branding to OEG Offshore, OEG has increasingly become an international player with a global footprint and a successful worldwide customer base. OEG has continued to develop on this global path to creating one of the leading offshore cargo carrying equipment suppliers in the world.
Over the years, we have always remained focused on our customers, operational excellence and supporting the market's ever-changing needs. Here we look back on some of the milestones in our history; the key moments that have created the OEG Offshore you see today.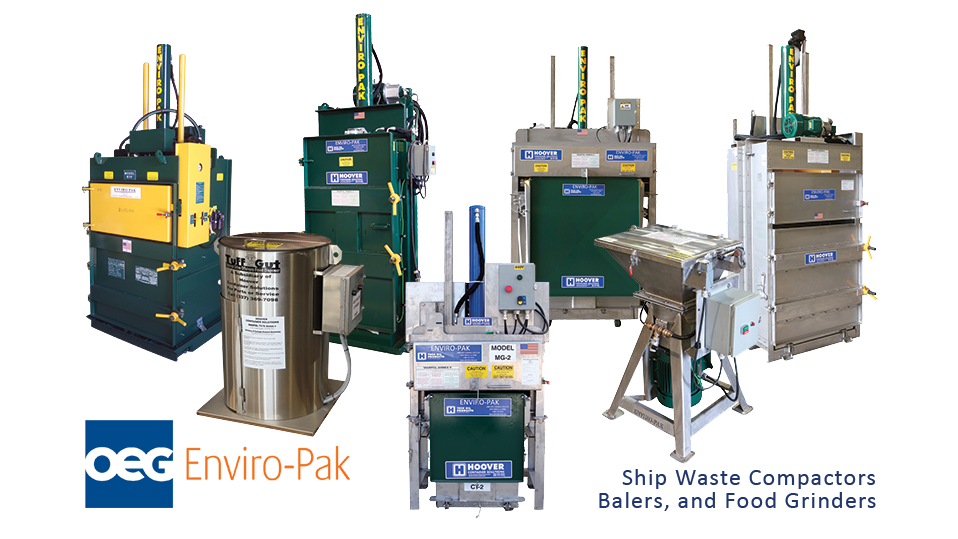 Simply put, the OEG Tech Oil Products' line of ENVIRO-PAK® compactors, crushers & food waste systems help our customers to increase profits, efficiency and safety while achieving their operating goals. What better reasons could there be to use our products?

Customers across various industries who invest in ENVIRO-PAK® waste management solutions not only reap financial rewards – they also receive the added bonus of protecting their employees and the environment.
The Enviro-Pak family includes specialized equipment for disposal of a broad spectrum of hazardous and non-hazardous materials, including:
Glass
Plastic
Paper/cardboard
Metal cans and 55-gallon drums
Food
Oil filters
Hazardous waste
OEG's inventory of heavy-duty, air driven waste compactors maximize recycling and waste reduction efforts by compacting solid waste materials into disposable bags.
Our range of trash compactors are made of high-quality components and have a variety of uses including offshore installations, barges, tankers, onboard ships, and various other offshore service vessels. With the capability for either air or electric operations and galvanized coating, the compactors are suitable for the harshest of environments.
Some of the many benefits offered by ENVIRO-PAK® include:

• Safer Environment – Our commitment to the oil & gas and maritime industries has resulted in simple, safe and reliable equipment that is roughneck-proof and designed for easy operation.

• Reduced Costs – ENVIRO-PAK® solutions have a positive impact on transportation, fuel, utility and labor expenses. By compacting and/or baling trash, our customers require less fuel and labor to remove waste. In addition, labor is reduced or redirected to more productive, profitable assignments.

• Maximized Space – We realize that rig and deck space is limited, and that's why ENVIRO-PAK® compactors and food grinders are designed to occupy the minimum amount of space while producing the maximum compaction rate. The resulting increased space on oil rigs, platforms and vessels can then be used for profit-generating activities.

• Cleaner Environment – Compacting and baling waste promotes a healthier environment. ENVIRO-PAK® is dedicated to helping offshore drilling rigs, offshore production platforms and marine vessels in the fight against pollution. To this end, our Recycle the Gulf® program can help your entire Gulf of Mexico fleet embrace recycling.

Learn more about ENVIRO-PAK® products and for any other solutions needed onboard your vessels please contact us!
Click here to visit OEG Offshore︱Enviro-Pak︱Tech Oil Solutions Website.