Bornemann Pumps from Obernkirchen, Germany, have a long history of success. Since the company was founded in 1853 our goal has been to respond to markets with products and solutions that are technologically outstanding and cost-effective.
Top efficiency by the pioneer in pump manufacturing
The success of Bornemann pumps in the marine and shipbuilding industry did not occur overnight, in fact, Bornemann is a pioneer when it comes to screw pumps. Whether in new or refurbished ships, Bornemann pumps have always covered a broad range of applications, including loading and unloading tankers as well as providing reliable solutions in the engine room.
Bornemann's flagship product is its twin screw pump, which is available in various designs and performance characteristics to suit the individual application requirements.
Bornemann pump solutions can be found in almost all ships, particularly in supply ships used for the world's oil industry. If efficiency and reliability are a top priority, then the decision has to be Bornemann.
Take a look at Bornemann's factory
Flexibility and profitability are the deciding factors for your pump solution
Bornemann offers the shipbuilding industry both
This is where Bornemann twin screw pumps guarantee tried-and-tested product quality. When it comes to loading or unloading tankers, lubricating the main diesel engine, pumping out bilge water and many other applications, Bornemann offers the perfect solution in every situation.
In addition, customers are confident in Bornemann's in-depth expertise. For more than 75 years the company has provided pumps and pump systems for almost any application. All this comes with a global customer service that can only be expected from the pump pioneers themselves.

A heart that beats powerfully and reliably
Bornemann twin screw pumps are rotary positive displacement pumps; the gearwheels and roller bearings are externally mounted and never come in contact with the pumped media. Around 80 models are available, in various materials, sizes and forms, providing application-optimised solutions.
Bornemann pumps cover a wide performance range in capacity, pressure, temperature and viscosity. Virtually all types of liquids can be handled i.e. low viscosity liquids such as petrol, hydrocarbons, seawater, or high viscosity liquids such as bitumen, tar, glue, molasses and chemical products.
Bornemann twin screw pumps are double-flow and self priming. There is no metal-to-metal contact between the pump screws and the housing. As the pumping elements rotate, the intermeshing of the two screws along with the pump housing form chambers. These chambers fill with the pumped fluid and transfer it from the suction side to the higher pressure discharge side of the pump. The pump is designed to allow for reverse flow by simply changing the shaft direction. The suction becomes the discharge and vice versa, all without any modifications to the pump.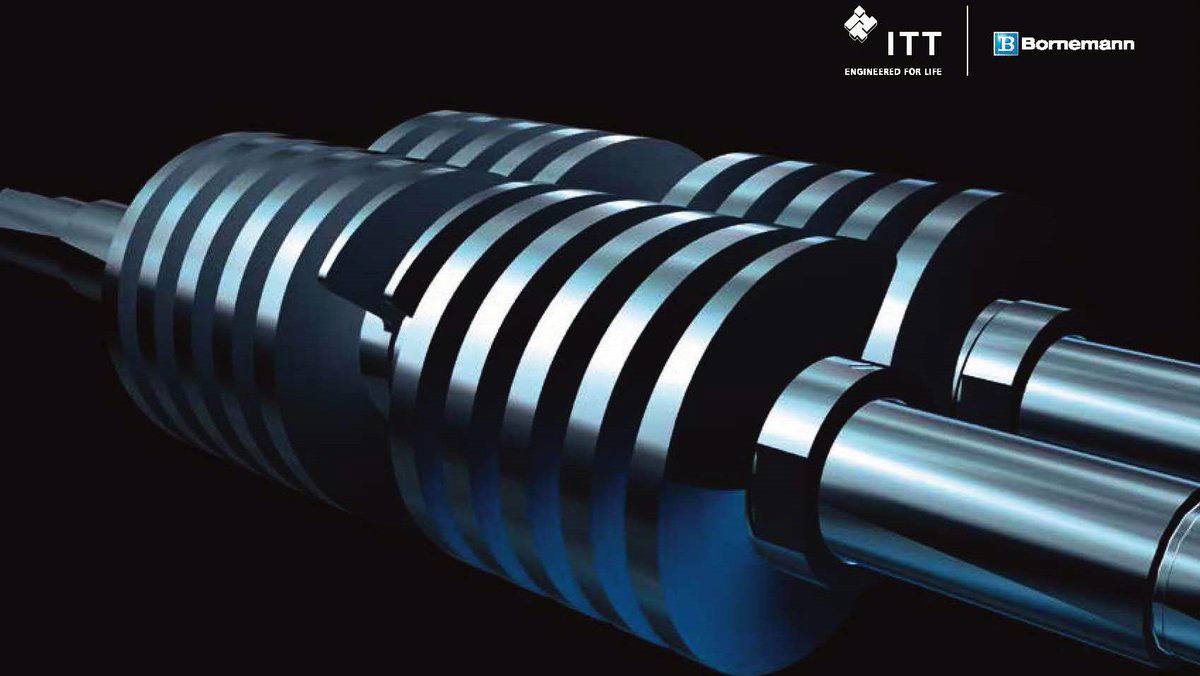 Technological competence and extensive flexibility
Bornemann twin screw pumps are self priming
Twin screw pumps are ideally suited for viscous liquids
Broad product range of twin screw pumps
Compact design ensures space-saving set-up
Functional principle ensures low-pulsation and low-noise operation
Short-term dry run operation possible
High suction lift up to 8,5 m (25 feet)
Constant flow at varying pressures and volumes
All essential components are produced by Bornemann
Intensive research and development to increase efficiency and profitability