Innospec is a global specialty chemicals business with the talent, expertise and drive to help our customers succeed in competitive markets. We make it our business to provide innovative ground-breaking products, combined with excellent customer service and technical support. The company's global scale and local capabilities enable us to remain flexible and dynamic to our customers' changing needs, with a continued focus on quality-driven and responsive service.
Innospec's outstanding R&D capabilities have meant that they have been successful in bringing new technologies to the market which allow our customers to improve their products and operations. Innospec continue to invest in and focus on R&D, ensuring we meet future needs with pioneering innovations.

Navigate changes in the marine industry with Innospec
Today's marine market depends more than ever on the reliability and efficiency of marine engines. Environmental legislation is putting pressure on ship owners, managers and operators to reduce emissions and move to much lower sulphur fuels – whether this is the traditional residual heavy fuel oil, or marine distillate.
New legislation from the International Maritime Organisation on Emission Control Areas is changing the fuels used by the shipping industry. The drive to introduce marine fuels with increasingly lower sulfur content – both HFO and distillate grades - is presenting a challenge for ship owners and marine engineers.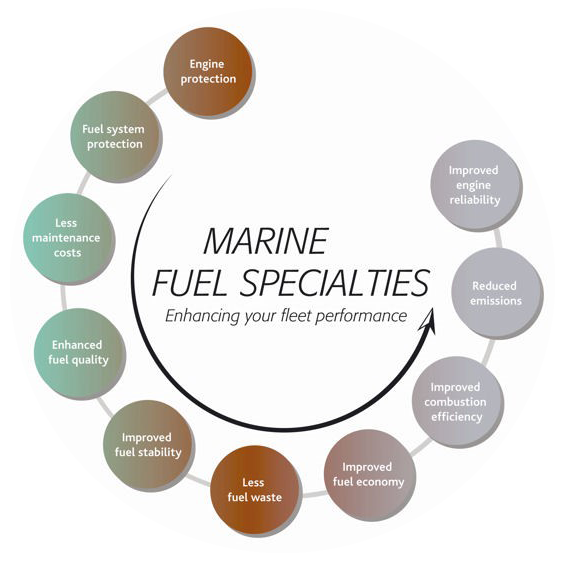 Whether you are staying with HFO, or changing to marine diesel fuels - INNOSPEC have the answer.
We understand these challenges facing the industry and can provide you with the next generation of fuel additives.
Innospec's knowledge of the marine fuels industry is unrivalled. The company has a long history in heavy fuel oils and understands the industry is changing. As the world's only fuel additive manufacturer focused solely on fuel additives, Innospec understand the complexities of handling heavy fuel oil and marine diesel/gasoil at sea.
We are the world's largest supplier of heavy fuel oil additives , marine fuel additives and marine diesel treatments. Whatever the fuel quality, our portfolio of additives is guaranteed to optimize engine reliability, boost performance, improve fuel economy and reduce maintenance requirements.
Innospec's line of Products includes:
All Innospec fuel additives are fully tested in marine conditions and offer an unrivalled array of benefits, helping you enhance fleet performance.