Since 1911, HOOVER Container Solutions is a company that is built to last and manufactures products that are built to last. Hoover is steeped in a tradition of manufacturing a long lasting, durable, and quality product. We bring a rich heritage of 100 years of manufacturing experience to the material handling industry, and we consistently offer high quality products and services to our customers.
HOOVER Tech Oil Products, Inc. supplies industrial compactors, cardboard balers, drum crushers, filter crushers, food grinders, and cargo equipment and is a global leader in equipment for offshore, maritime, and commercial trash compacting and recycling waste materials. HOOVER Tech Oil has placed equipment in hundreds of diverse environments and across industries, both domestically and internationally. Headquartered in New Iberia, LA, HOOVER Tech Oil engineers continue to design innovative products that provide solutions to unique environmental challenges. HOOVER Tech Oil is committed to maintaining its position as an industry leader in the design, manufacturing, and delivery of safe, simple, and reliable marine compaction and recycling equipment, cargo handling equipment and environmental services.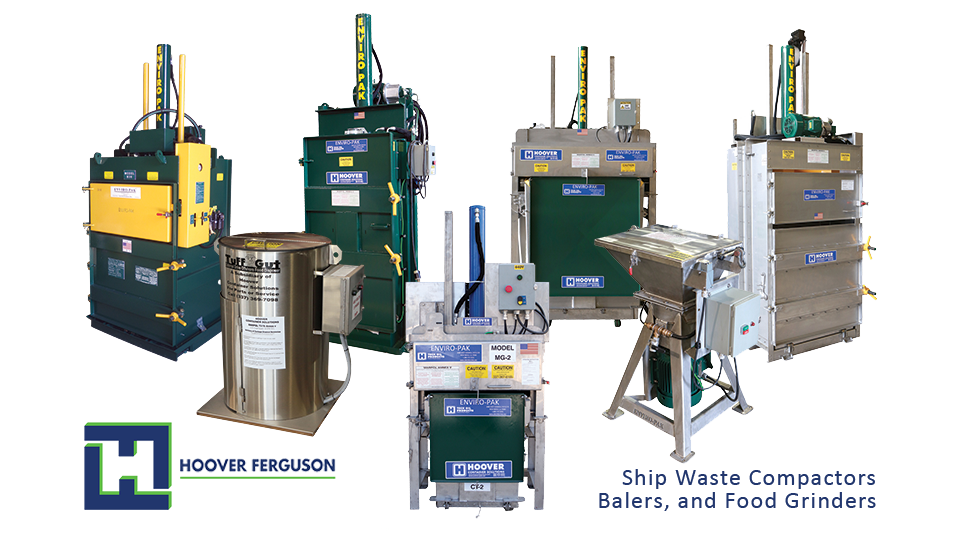 Simply put, the HOOVER Tech Oil Products' line of ENVIRO-PAK® compactors, crushers & food waste systems, as well as the Intermediate Bulk Containers (IBCs) help our customers to increase profits, efficiency and safety while achieving their operating goals. What better reasons could there be to use our products?

Customers across various industries who invest in ENVIRO-PAK® waste management solutions not only reap financial rewards – they also receive the added bonus of protecting their employees and the environment. Some of the many benefits offered by ENVIRO-PAK® include:

• Safer Environment – Since 1980, there have been no loss time accidents with the operation of our equipment. This is a remarkable testament to Tech Oil's dedication to designing products to the highest quality standards. Our commitment to the oil & gas and maritime industries has resulted in simple, safe and reliable equipment that is roughneck-proof and designed for easy operation.

• Reduced Costs – ENVIRO-PAK® solutions have a positive impact on transportation, fuel, utility and labor expenses. By compacting and/or baling trash, our customers require less fuel and labor to remove waste. In addition, labor is reduced or redirected to more productive, profitable assignments.

• Maximized Space – We realize that rig and deck space is limited, and that's why ENVIRO-PAK® compactors and food waste systems are designed to occupy the minimum amount of space while producing the maximum compaction rate. The resulting increased space on oil rigs, platforms and vessels can then be used for profit-generating activities.

• Cleaner Environment – Compacting and baling waste promotes a healthier environment. ENVIRO-PAK® is dedicated to helping offshore drilling rigs, offshore production platforms and marine vessels in the fight against pollution. To this end, our Recycle the Gulf® program can help your entire Gulf of Mexico fleet embrace recycling.

Learn more about ENVIRO-PAK® products: Compactor Features Explained, and for any other solutions needed onboard your vessels please contact us!